Earn up to 10%, change lives
Secure a constant income from a fund of high-growth companies in Untapped markets
Join Us
The only online investment platform helping you invest in Africa's fastest - growing
mobility


startups - all at once!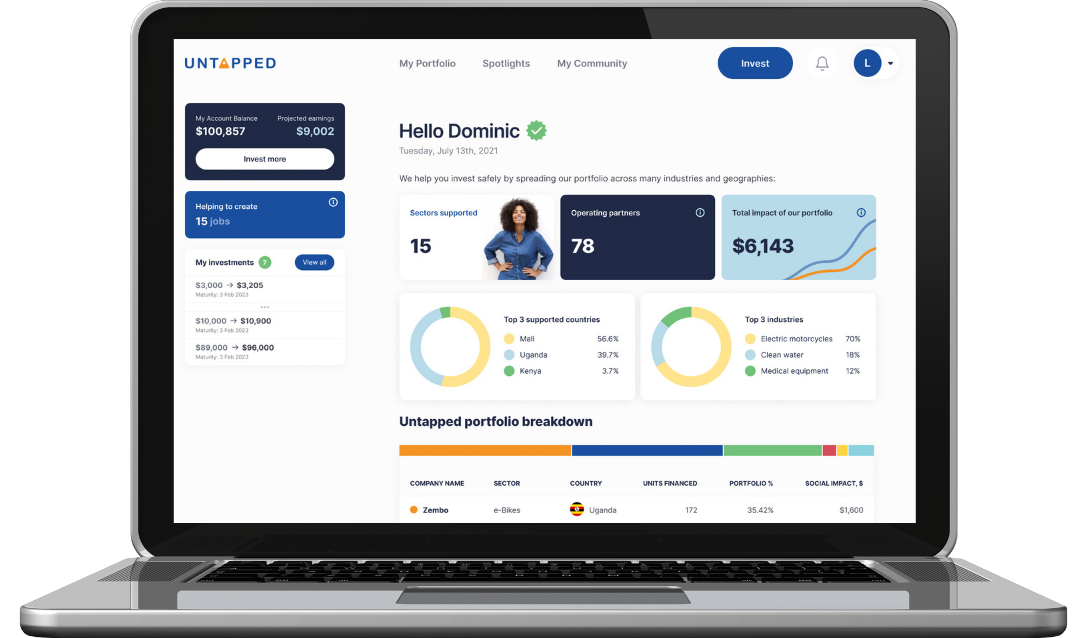 Up to 10% interest with built-in impact

Invest as little as $300 and make a return that you can feel good about.

Real-time data + Diversification

See it all right on your dashboard. You're diversified by default across industries, currencies, and countries.

Local knowledge, global presence

Our team lives and breathes investing - and we'll help you talk the talk. Learn about emerging markets in-app!
Meet the
game changers

...
Mexico, South Africa
/
Mobility
Flexclub
Flexclub is a subscription marketplace for vehicles and vehicle leasing companies, increasing employment and ownership opportunities for rideshare drivers in Mexico and South Africa
Social impact: $171,786.92
Paga
Paga is Nigeria's leading mobile money company, building an ecosystem to enable people to digitally send and receive money, and access an array of financial services.
Social impact: $658,190.00
PayGas
PayGas offers affordable access to clean cooking energy (LPG), by building and operating locally-managed gas dispensing stations in South African townships, where consumers can buy only what they need.
Social impact: $1,608.00
Teliman
Teliman is scaling the moto-taxi sector in Bamako, Mali, making it easy for moto-taxi drivers to acquire a bike via a leasing scheme, and to find customers via their ride-hailing application.
Social impact: $173,960.56
Watu
Watu offers financing tools and loans to entrepreneurs in Uganda, allowing them to finance the assets or equipment (often motorbikes) they need to succeed in their businesses.
Social impact: $202,367.82
Ilara Health
Ilara Health makes common diagnostics accessible and affordable to the 500 million people in Africa who today struggle to access even basic blood tests.
Social impact: $44,352.00
Zembo
Zembo offers electric motorcycles to boda-boda (motorbike) drivers, with rechagable batteries from solar-powered stations.
Social impact: $257,883.76
DotPay
DotPay allows people across Nigeria to withdraw money, send money, pay bills and take out loans with their POS devices.
Social impact: $6,678.00
KoolBoks
Koolboks combines the natural forces of the sun and water to create eco-friendly, solar refrigeration products for domestic, commercial, and healthcare use across Nigeria.
Social impact: $86,208.00
Mazi Mobility
Mazi mobility is building out Africa's solution for smart and clean mass mobility infrastructure, starting with EV bikes and battery swapping infrastructure.
Social impact: $12,603.00
Asaak
Asaak offers motorbikes for bodaboda (motorbike) drivers via a lease scheme, with limited barriers to acquiring, and use repayment rates to analyse and update entreprenuers' credit scores.
Social impact: $1,818,182.78
Solar Taxi
Solar Taxi provides access to electric vehicles, specifically motorbikes, for gig workers in Ghana.
Social impact: $41,637.00
iDrop
I-Drop produces Waterpods, safe water dispensing systems installed in grocery stores across South Africa, that combine advanced purification technology into a compact, user-friendly design.
Social impact: $5,823.00
Our portfolio is made up of small businesses and entrepreneurs building essential services across emerging markets. Their take-home revenue from the assets you finance is how we calculate our social impact - it's that simple.
Ready to make your money (really) count?
Create an Untapped account to start watching your impact and returns grow in real-time.